Environmental Scan - British Columbia
Demographics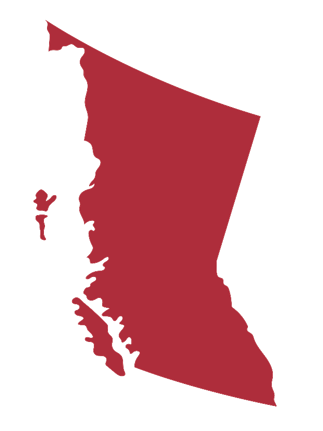 Highlights
The proportion of seniors aged 65+ is projected to increase from 20.3% in 2021 to 24.2% in 2045.
In 2022, individuals aged 30 to 54 accounted for 33.9% of the population. This is projected to increase to 35.7% by 2045.
The proportion of youth (15-29) is projected to decline from 17.7% in 2021 to 16.3% in 2045.
The average wage across all sectors of British Columbia's economy was $32.57/hr in 2022, an increase of $1.29/hr from 2021.
The average age of the population in British Columbia is 43.1 versus 41.9 for all of Canada (Census 2021).
5.0 million people lived in British Columbia in 2021, an increase of 7.6% from 2016. British Columbia represents 13.5% of Canada's population.
Indigenous peoples make up 4.7% of British Columbia's population (2021 Census), and this group is well represented in the province's labour force, making up 5.1%. However, British Columbia's Indigenous population had a higher unemployment rate at 6.3% compared to the rest of the population at 4.6% in 2022. Many Indigenous peoples live in isolated and rural communities with fewer employment opportunities.
As of 2021, 40.3% of British Columbia's population identified as BIPOC (black, Indigenous, and other people of colour), tied with Manitoba for the highest in the W-T. British Columbia had the highest proportion of people who identified as visible minorities at 34.4%. The largest visible minorities in the province were Chinese (11.2%), South Asian (9.6%) and Filipino (3.5%).
In 2022, British Columbia had the second highest proportion of recent immigrants in Canada, with Vancouver attracting large numbers of immigrants from the Asia-Pacific region. Metro Vancouver is home to a disproportionate number of landed immigrants with over three quarters of B.C's immigrant population calling the region home.
In 2022, 24.7% of British Columbians aged 15 and over identified as persons with disabilities. The 2017 Canadian Survey on Disability revealed wide differences in income and employment outcomes of those persons with disabilities when compared with the rest of the population. Persons with disabilities in British Columbia had an average unemployment rate of 8.4% compared to persons without disabilities at 4.5%.
---
Labour Market Conditions
In 2022...
increase
Employment grew marginally (+3.2%)
decrease
Unemployment decreased sharply (-29.2%)
decrease
Participation rate fell (65.6% to 65.1%)
increase
Employment rate increased (61.2% to 62.1%)
British Columbia Unemployment Rate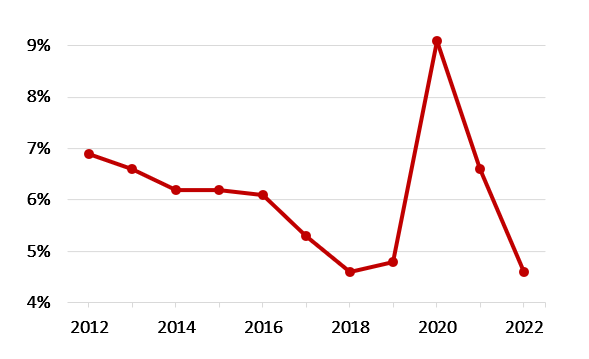 Show data table

: Unemployment Rate

British Columbia Unemployment Rate

| Year | Unemployment Rate (%) |
| --- | --- |
| 2012 | 6.9 |
| 2013 | 6.6 |
| 2014 | 6.2 |
| 2015 | 6.2 |
| 2016 | 6.1 |
| 2017 | 5.3 |
| 2018 | 4.6 |
| 2019 | 4.8 |
| 2020 | 9.1 |
| 2021 | 6.6 |
| 2022 | 4.6 |
British Columbia continued its recovery from the COVID-19 pandemic throughout 2022 with the number of unemployed persons in the province decreasing significantly (-54,900 or -29.2%).
British Columbia's labour market remained tight throughout most of 2022 with the labour force growing only 1.0% in 2022 compared to an average of 1.6% per year over the last decade. Businesses are experiencing worker shortages across a number of sectors. Despite shortages, employment growth was subdued in the fourth quarter of 2022 at 0.1%.
---
Economic Conditions
British Columbia's Economic Drivers in 2022
Forecasted GDP Growth Rate in British Columbia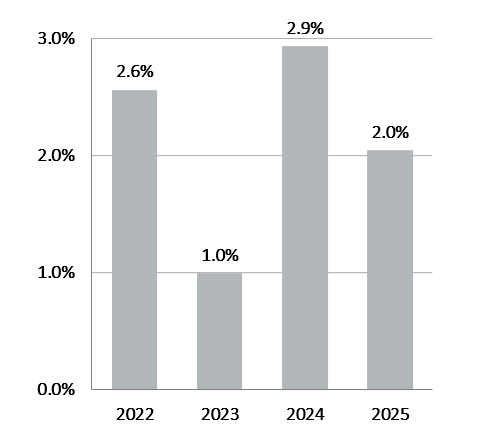 Show data table

: Forecasted GDP Growth Rate

Forecasted GDP Growth Rate in British Columbia

| Year | Forecasted GDP Growth Rate |
| --- | --- |
| 2022 | 2.6% |
| 2023 | 1.0% |
| 2024 | 2.9% |
| 2025 | 2.0% |
Tourism plays a significant role in British Columbia's economy as the province is a major destination for international and domestic tourists alike. The province's tourism businesses rebounded sharply in 2022 following the pronounced impacts of the COVID-19 pandemic.
Increasing interest rates in Canada, as the Bank of Canada implemented rate hikes to curb inflation, have begun to slow the economy.
British Columbia continues to have an elevated job vacancy rate compared to the rest of Canada. However, employers may begin to reduce hiring as economic conditions cool.
British Columbia's forestry sector is experiencing increased curtailments, both temporary and permanent, as companies react to lower wood prices and a reduced fibre supply. Layoffs have a disproportionate effect on smaller communities that rely heavily on this sector.
Real GDP growth in British Columbia is expected to slow as housing values are expected to decrease in the coming years. Nevertheless, GDP growth is forecast to remain positive.
Risks to the British Columbia Economy in 2023
Increasing interest rates will have a cooling effect on the economy as debt servicing increases and available investment funds decrease. British Columbia's consumer price index increased 6.2pp between January 2022 and January 2023.
A large decline in the real estate market could begin to influence the performance of other sectors, as British Columbia has traditionally had one of Canada's most expensive (and profitable) real estate markets.
A tight labour market will continue to present challenges to business growth in 2023. A lack of workers in key sectors may result in higher prices as demands on a limited labour pool remain high.
---
Regional Issues
Migration
British Columbia continues to be a destination for interprovincial migrants, in 2021/2022 the province recorded the second highest number of in-migrants in Canada. In total, 70,788 people relocated to British Columbia from another province in 2021/2022, a 19.3% increase from 2020/2021.
Net interprovincial migration to the province was 15,869 in 2021/2022, a 37.5% decrease from 2020/2021. Despite a massive surge in interprovincial migrants across the country, in part due to the effects and repercussions of the COVID-19 pandemic, a significant number of residents left for other parts of Canada.
---
Industry Trends
Employment Growth by Industry, 2022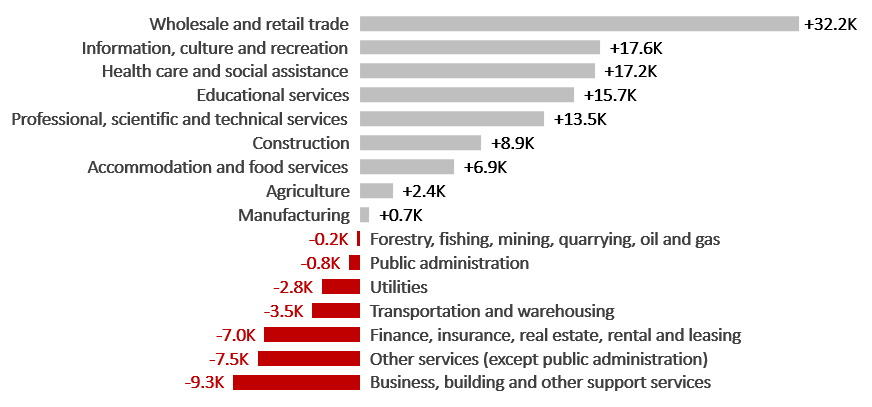 Show data table

British Columbia Employment Growth ('000s)

| Industry (NAICS) | Employment Growth ('000s) |
| --- | --- |
| Wholesale and retail trade | 32.2 |
| Information, culture and recreation | 17.6 |
| Health care and social assistance | 17.2 |
| Educational services | 15.7 |
| Professional, scientific and technical services | 13.5 |
| Construction | 8.9 |
| Accommodation and food services | 6.9 |
| Agriculture | 2.4 |
| Manufacturing | 0.7 |
| Forestry, fishing, mining, quarrying, oil and gas | -0.2 |
| Public administration | -0.8 |
| Utilities | -2.8 |
| Transportation and warehousing | -3.5 |
| Finance, insurance, real estate, rental and leasing | -7.0 |
| Other services (except public administration) | -7.5 |
| Business, building and other support services | -9.3 |
Employment gains were recorded in the majority of industries in British Columbia in 2022.
As a result of employment losses and mill curtailments in Forestry, the Government of British Columbia is increasing supports for forestry businesses. The province has announced significant funds to encourage high value manufacturing from wood products.
Wholesale and retail trade saw large gains in employment in 2022 after significant layoffs caused by the COVID-19 pandemic. However, this sector still remains vulnerable to a recession as inflationary pressures decrease the average consumer's disposable income.
British Columbia's construction sector remains resilient with a number of large projects underway across the province. Projects such as Site C dam, Transmountain Pipeline, Coastal Gaslink and the Broadway Subway Expansion continue to drive employment growth.
---
Regional Economic Conditions
The majority of British Columbia's economic regions recorded employment growth in 2022.
The province's cosmopolitan regions were most resilient to economic downturn, driving employment growth post-pandemic.
Rural economic regions struggled, as these areas tend to have fewer job opportunities and less diverse economies that rely more heavily on commodities that fluctuate in price.
Employment Growth by Economic Region, 2022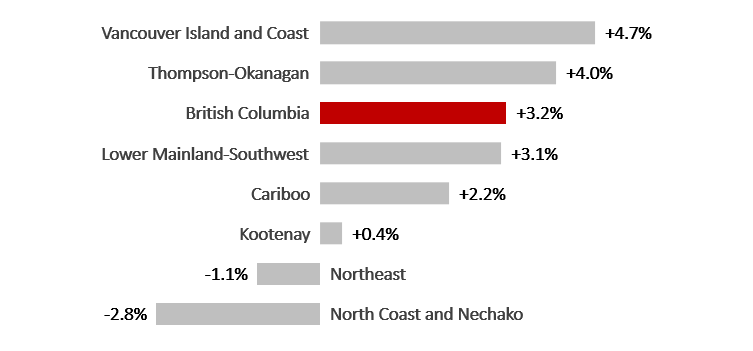 Show data table

British Columbia Employment Growth (%)

| Economic Region | Employment Growth (%) |
| --- | --- |
| Vancouver Island and Coast | 4.7 |
| Thompson-Okanagan | 4.0 |
| British Columbia | 3.2 |
| Lower Mainland-Southwest | 3.1 |
| Cariboo | 2.2 |
| Kootenay | 0.4 |
| Northeast | -1.1 |
| North Coast and Nechako | -2.8 |